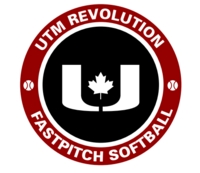 (London, ON) 2K4 was on the field three times this past weekend as part of the new London Indoor event, held at BMO Centre. For those that had never seen the facilty it was a positive experience immediately walking into the facilty. Excellent concessions, ample washrooms, and three full size diamonds indoors... hardly able to match that anywhere in Ontario. As an added benefit the weather this past weekend wasn't super warm, so getting some game action in, and not freezing the players and fans in the process was a win/win situation.
Game 1 vs Milton Bats (W 10-1)
UTM jumped on Milton early in this game with early RBI's from Sarah Kent, Michelle Brooks, Tierney Hocquard, Sydney Allison, and Lauren Artt. Hocquard started on the rubber for UTM pitching 2-innings allowing, 0 runs, on 0 hits. She struck out 5, walked 1. Hayley Shackell, and Sarah Kent also pitched in this game finishing off the strong start from Hocquard. Allison, Art and Kent each had multiple hits in this game, Allison led the team going 3 hits, Kent led the team with 3 RBI's.
Game 2 vs Fury Softball (W 9-1)
In the second game, on a back to back UTM Revolution once again scored early and never looked back in their match vs Breslau Fury. Tierney Hocquard had a great game, with 3 hits, 2 runs, and a RBI. Other team members contributing offensively included Asia Sloat, Avery Curran, and Sydney Allison who each had multiple hits in the game. Sloat also had 2-steals in this game. Defensively in the 3rd inning Lauren Artt made two running catches in LF in the same inning, that helped keep the Fury bats in check. Pitching in this game was handled by Artt, Hayley Shackell, and Hocquard who combined only allowed 2 hits over 5.33 innings.
Game 3 vs Springfield Brewers (W5-4)
With 6 hours between games the team went on a little adventure in London, that included some food and bowling, so heading back onto the BMO Centre field late in the afternoon prooved to be a bit of a challenge. The Brewers also provided quite the challenge in this game, and it wasn't until the final frame that 2K4 took the lead with a 2-run rally, before holding on for the one run victory. Sarah Kent led the team at the top of the line-up, with 3-hits. Rachel Little also matched Kent with the same number of hits. Kent, and Avery Curran notched 2B raps in this game as well. Kent also pitched, along with Tierney Hocquard and Lauren Artt and combined the crew collectively fanned 8 Springfield batters in the win. Artt, got the win, and Hocquard earned the save.